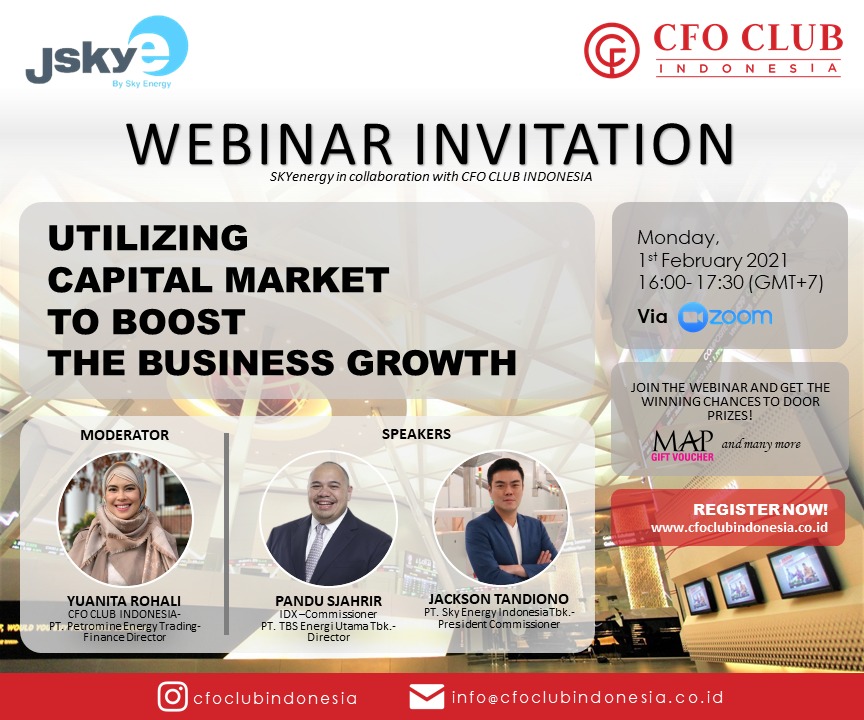 Upcoming Events
CFO Club February 2021 Webinar – Utilizing Capital Market to Boost the Business Growth
20200310 | 18:00:00-20:30:00 WIB
at Grand Hyatt Hotel - Jakarta
CFO CLUB February 2021 WEBINAR
Monday, 1st February 2021 | 16:00- 17:30 (GMT +7)
Greetings from CFO Club Indonesia!
Capital market is now becoming more global and the competition among the institutions. Financing through capital market has become now easier as compared to financing through banks. It provides wide range of services that are related to financial investment, it includes the stock market, commodities exchange where debt and equity securities can be bought or sold. This the place to raise funds and provide money to those communities where there is deficiency or need for investment
Join us on the exclusive webinar dedicated to CFO Club Indonesia members with interesting sharing from a very well known, success businessmen, business owner:
Pandu Sjahrir – IDX, Commissioner; PT TBS Energi Utama Tbk., Director
Jackson Tandiono – PT. Sky Energy Indonesia Tbk., President Commissioner
Event Moderator:
Yuanita Rohali – CFO Club Indonesia; PT Petromine Energy Trading, Finance Director
If you're interested in joining please click on the link below to register.
If you have any questions, please feel free to to contact Elin Jayanti – 08122574811.
We look forward to welcoming you to our session!
Click here for attendance list
Register