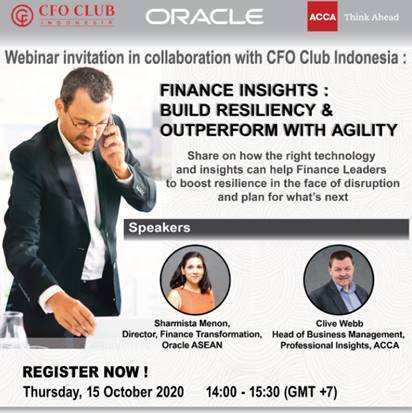 Upcoming Events
CFO Club October 2020 Webinar – Finance Insights – Build Resiliency & Outperform with Agility
20200310 | 18:00:00-20:30:00 WIB
at Grand Hyatt Hotel - Jakarta
CFO CLUB October 2020 WEBINAR
Thrusday, 15th October 2020 | 14.00 – 15.30
Greetings from CFO Club Indonesia!
Against this unprecedented environment, finance leaders are faced with the enormous challenge of business survival. Being able to access good data will be key to a business's survival, whether that is consumer data that can show how markets have shifted, or financial data that can tell the business its position in real time.  
Resilience isn't merely a buzzword. It's more important than ever to look at the flexibility and adaptability of every system, process, and team in your ecosystem, from how you engage with customers and employees to how you work with suppliers and manage your finances. Preparing your organisation for the unexpected not only mitigates risk, it helps you stay ahead of your competition.  
That being the case, the organisations that will thrive and survive will be the ones that devolve responsibility. They have to be able to make decisions on the frontlines of disruption – and to do this they need tools that give them the insight and ability to make decisions with confidence.
When supported by the right technology and insight, people in the company can do incredible things to boost resilience in the face of disruption. Lines of business can utilise a single pool of shared insight to collaborate and rapidly transform how the business operates.  
This webinar provides an opportunity to understand how technology can actually help us from the perspectives of senior finance leaders in Indonesia. As often time the greatest learning in organizations are often through crisis this is where some breakthrough and innovations can play apart and become the exit platform of the situation. 
If you're interested in joining please click on the link below to register.
If you have any questions, please feel free to to contact Elin Jayanti – 08122574811.
We look forward to welcoming you to our session.
Click here for attendance list
Register