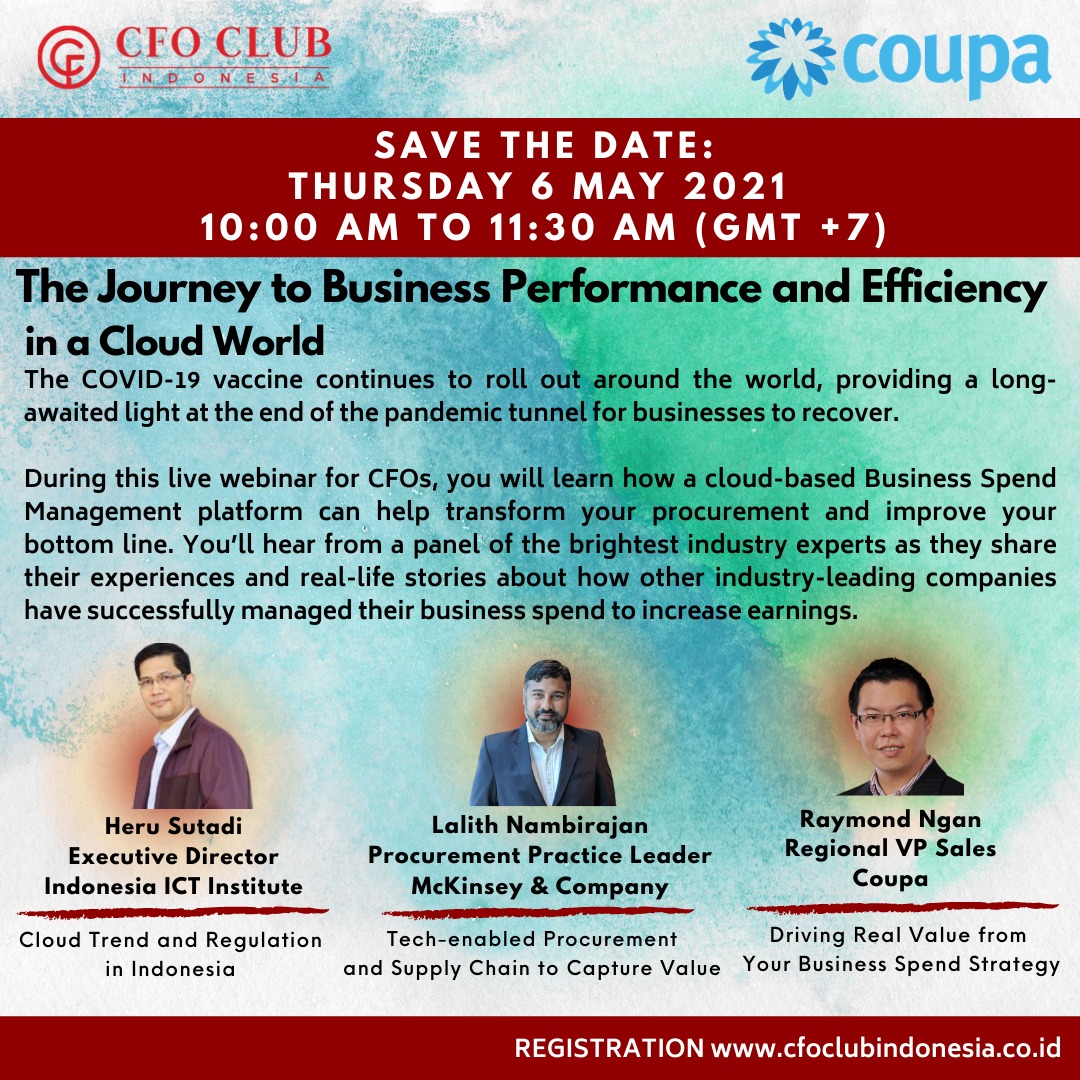 Upcoming Events
CFO Club May 2021 Webinar – The Journey to Business Performance and Efficiency in a Cloud World
20200310 | 18:00:00-20:30:00 WIB
at Grand Hyatt Hotel - Jakarta
CFO CLUB MAY 2021 WEBINAR
Thursday, 6st May 2021 | 10:00- 11:30 (GMT +7)
Greetings from CFO Club Indonesia!
The COVID-19 vaccine continues to roll out around the world, providing a long-awaited light at the end of the pandemic tunnel for businesses to recover.
During this live webinar for CFOs, you will learn how a cloud-based Business Spend Management platform can help transform your procurement and improve your bottom line. You'll hear from a panel of the brightest industry experts as they share their experiences and real-life stories about how other industry-leading companies have successfully managed their business spend to increase earnings.
Join us on the exclusive webinar dedicated to CFO Club Indonesia members with interesting sharing from a very well known, professional:
Heru Sutadi, Executive Director; Indonesia ICT Institute
Lalith Nambirajan, Procurement Practice Leader SEA; McKinsey & Company
Raymond Ngan, Regional VP Sales Asia; Coupa
Event Moderator:
Evi Afiatin – CFO Club Indonesia; BPJS Ketenagakerjaan, Chief Financial & Risk Officer
If you're interested in joining please click on the link below to register.
If you have any questions, please feel free to to contact Elin Jayanti – 08122574811.
We look forward to welcoming you to our session!
Click here for attendance list
Register