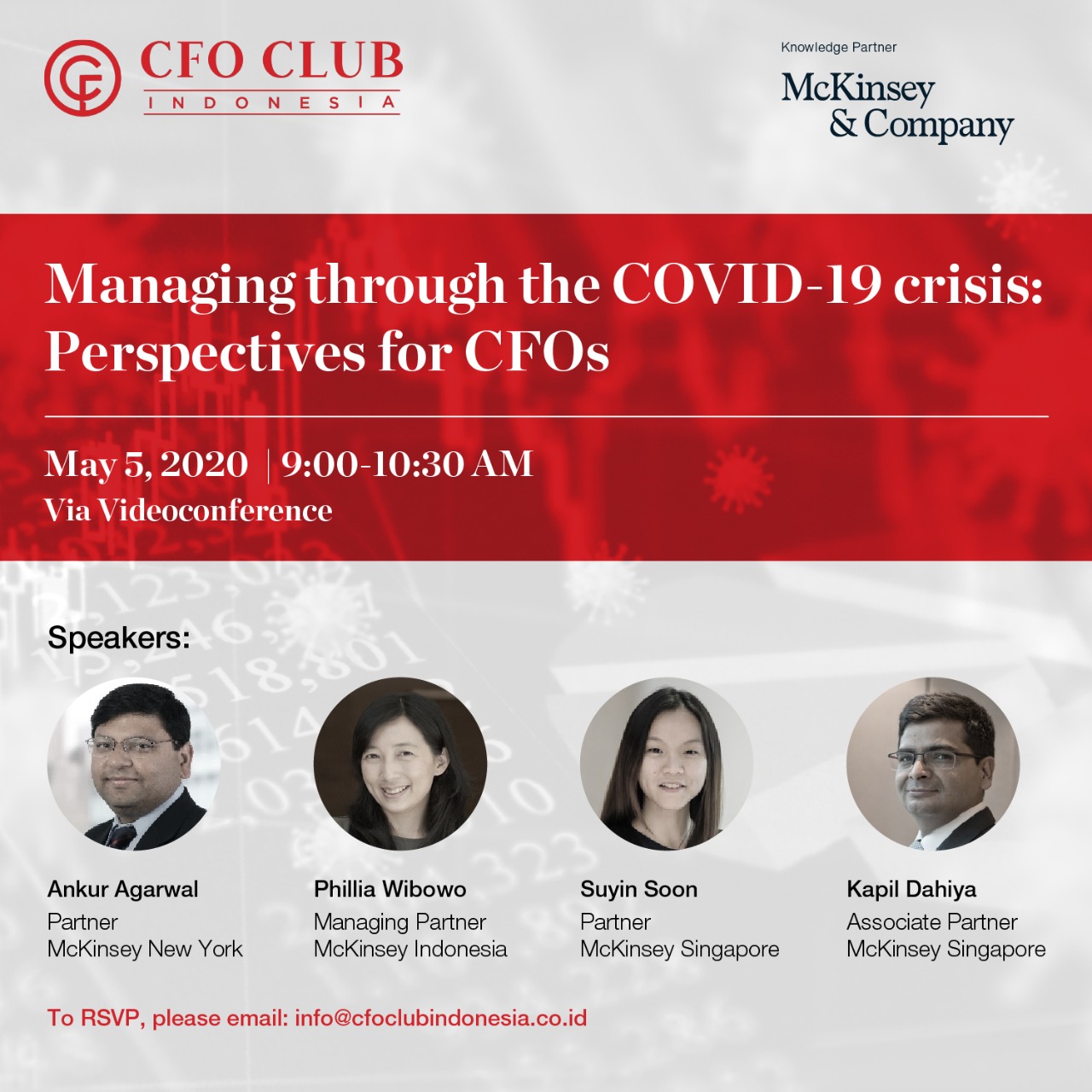 Upcoming Events
CFO Club May 2020 Webinar – Managing Through the COVID 19 Crisis: Perspectives for CFOs
20200310 | 18:00:00-20:30:00 WIB
at Grand Hyatt Hotel - Jakarta
CFO CLUB May 2020 WEBINAR
Tuesday, May 5th | 09.00 – 10.30 WIB
Greetings from CFO Club Indonesia!
The coronavirus outbreak is first and foremost a humanitarian challenge, affecting millions of people. It is also having a growing impact on the global economy – disrupting the financial landscape of countries and encouraging businesses to rethink their long-term operating models.  Grappling with this immense challenge will pose questions for CFOs on what it will mean for their corporations, their people as well as their own personal leadership practices.  With that in mind, we would like to invite you to an exclusive virtual session with McKinsey & Company – Managing through the COVID 19 crisis: Perspectives for CFOs  on May 5th at 09.00 – 10.30 WIB.
During this session, speakers from McKinsey & Company will share insights on implications for businesses and scenarios for the economic impact of the COVID-19 crisis, trends on Indonesians consumer sentiment as well as practical guidance for CFO to lead in times of crisis.
Speakers from McKinsey & Company :
Ankur Agrawal, Partner and Leader of CFO/ Finance Service Line, New York
Phillia Wibowo, Managing Partner, Indonesia
Suyin Soon, Partner, Singapore
Kapil Dahiya, Associate Partner, Singapore
If you're interested in joining please click on the link below to register. You will be given the link to join the webinar upon confirmation.
If you have any questions, please feel free to to contact Elin Jayanti – 08122574811.
We look forward to welcoming you to our session.
Click here for attendance list
Register