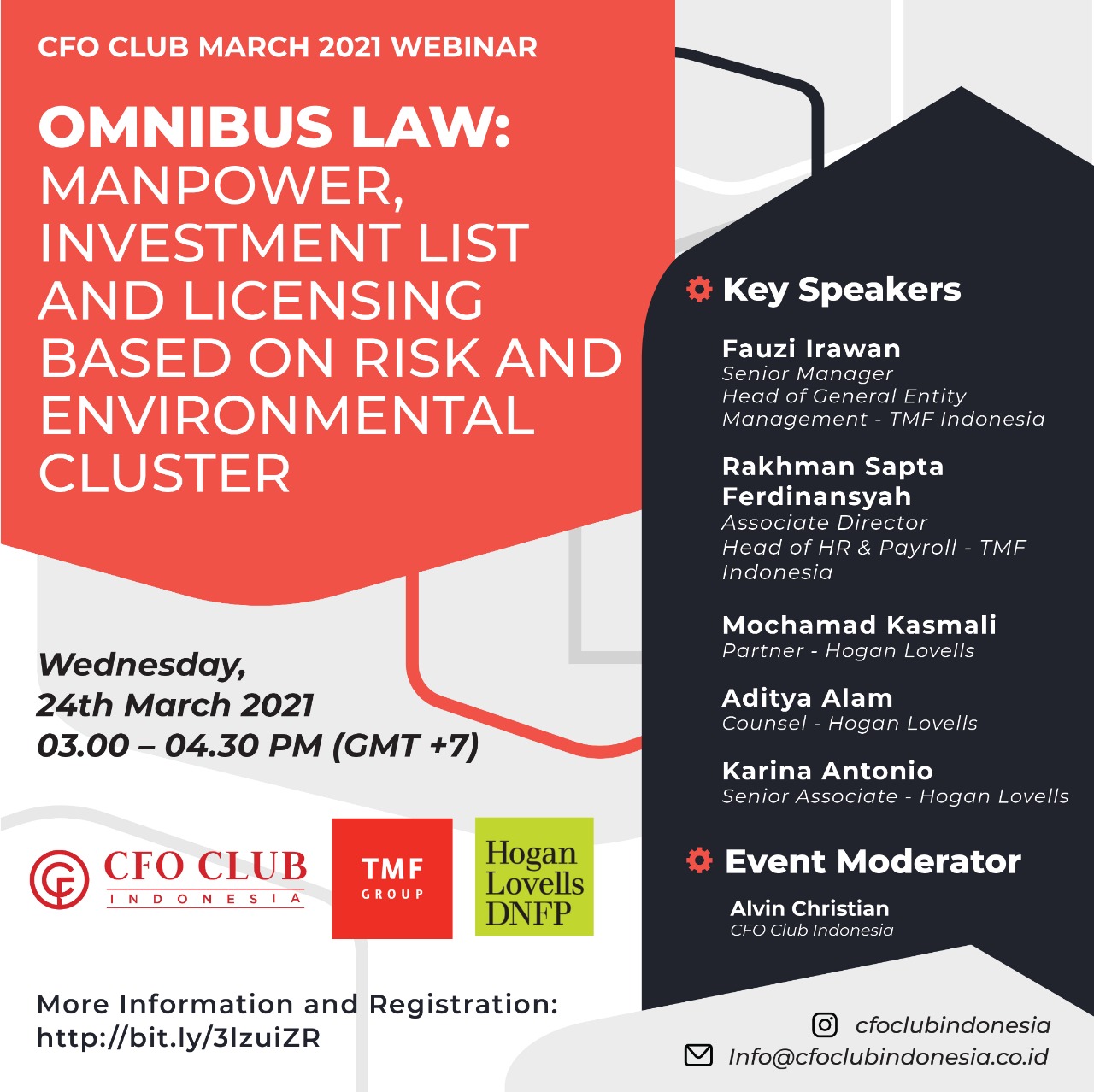 Upcoming Events
CFO Club March 2021 Webinar – Omnibus Law: Manpower, Investment List and Licensing Based on Risk and Environmental Cluster
20200310 | 18:00:00-20:30:00 WIB
at Grand Hyatt Hotel - Jakarta
CFO CLUB March 2021 WEBINAR
Wednesday, 24th March 2021 | 03.00 – 04.30 PM (GMT +7)
Greetings from CFO Club Indonesia!
Since the day Indonesian Government issue the Omnibus Law, people and businesses in Indonesia have never stopped talking about the pros and cons of this "breakthrough".
With the issuance of the Omnibus Law derivative regulations such as (i) the government regulation in manpower cluster, (ii) Presidential Regulation No. 10 of 2021 on Investment Business Lines ("Investment List"), and (ii) Government Regulation No. 5 of 2021 on the Implementation of Risk-Based Business Licensing ("Regulation 5/2021"), many believe that the Omnibus Law will accelerate the nation's economic growth and will reform the current regulatory system, making Indonesia a more competitive/appealing destination for foreign investment.
Together with CFO Club Indonesia, TMF Group and Hogan Lovells will share their expert view on Omnibus Law and the changes in 3 main areas: Investment, Licensing, and Manpower.
Key Speakers:
Fauzi Irawan- Senior Manager – TMF Indonesia

Rakhman Sapta Ferdinansyah- Associate Director – TMF Indonesia

Mochamad Kasmali – Partner – Hogan Lovells

Aditya Alam – Counsel – Hogan Lovells

Karina Antonio – Hogan Lovells
Event Moderator:
Alvin Christian- CFO Club Indonesia
If you're interested in joining please click on the link below to register.
If you have any questions, please feel free to to contact Elin Jayanti – 08122574811.
We look forward to welcoming you to our session!
Click here for attendance list
Register