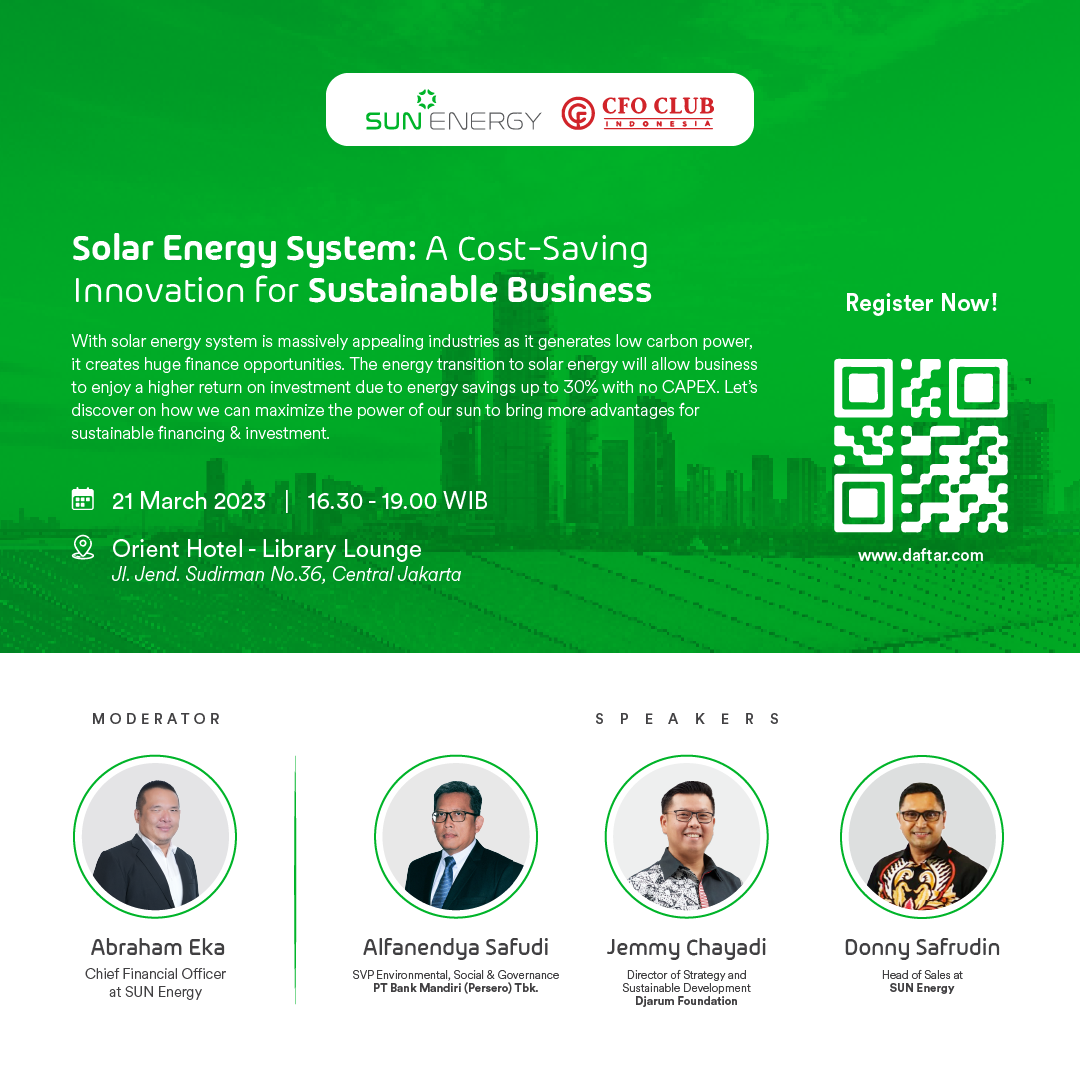 Upcoming Events
CFO Club Indonesia Sharing Session March 2023
20200310 | 18:00:00-20:30:00 WIB
at Grand Hyatt Hotel - Jakarta
CFO Club Indonesia Sharing Session March 2023
Tuesday, March 21, 2023 | 16.30 – 19.00
at Orient Hotel Jakarta (Jl. Jend. Sudirman No.36, Central Jakarta)

SUN Energy in collaboration with CFO Club Indonesia respectfully invites all members of CFO Club Indonesia to attend:
Sharing Session "Solar Energy System: A Cost-Saving Innovation for Sustainable Business"
The aspects of Environmental, Social, Governance (ESG) have now become the focus of investors both at the national and international levels, as a basic consideration in making investment decisions. One of the focuses in the Environmental Criteria in the ESG aspect is managing impacts caused climate change and the use of clean energy. For this reason, the use of renewable energy sources with low CAPEX such as solar energy as an alternative source of electricity is currently becoming popular among industry players.
Through this event, SUN Energy, the leading solar power system project developer in Indonesia, intends to open a discussion for CFO Club Indonesia members to discuss more about the various positive values that can be generated by implementing ESG aspects from the financial and investment financing industry.
Attend this Sharing Session that will be held on:
Tuesday, March 21, 2023
16.30 – 19.00
at Orient Hotel Jakarta (Jl. Jend. Sudirman No.36, Central Jakarta)
If you're interested in joining please click on the link below to register. If you have any questions, please feel free to contact Elin Jayanti – 08122574811.
We look forward to welcoming you.
Click here for attendance list
Register