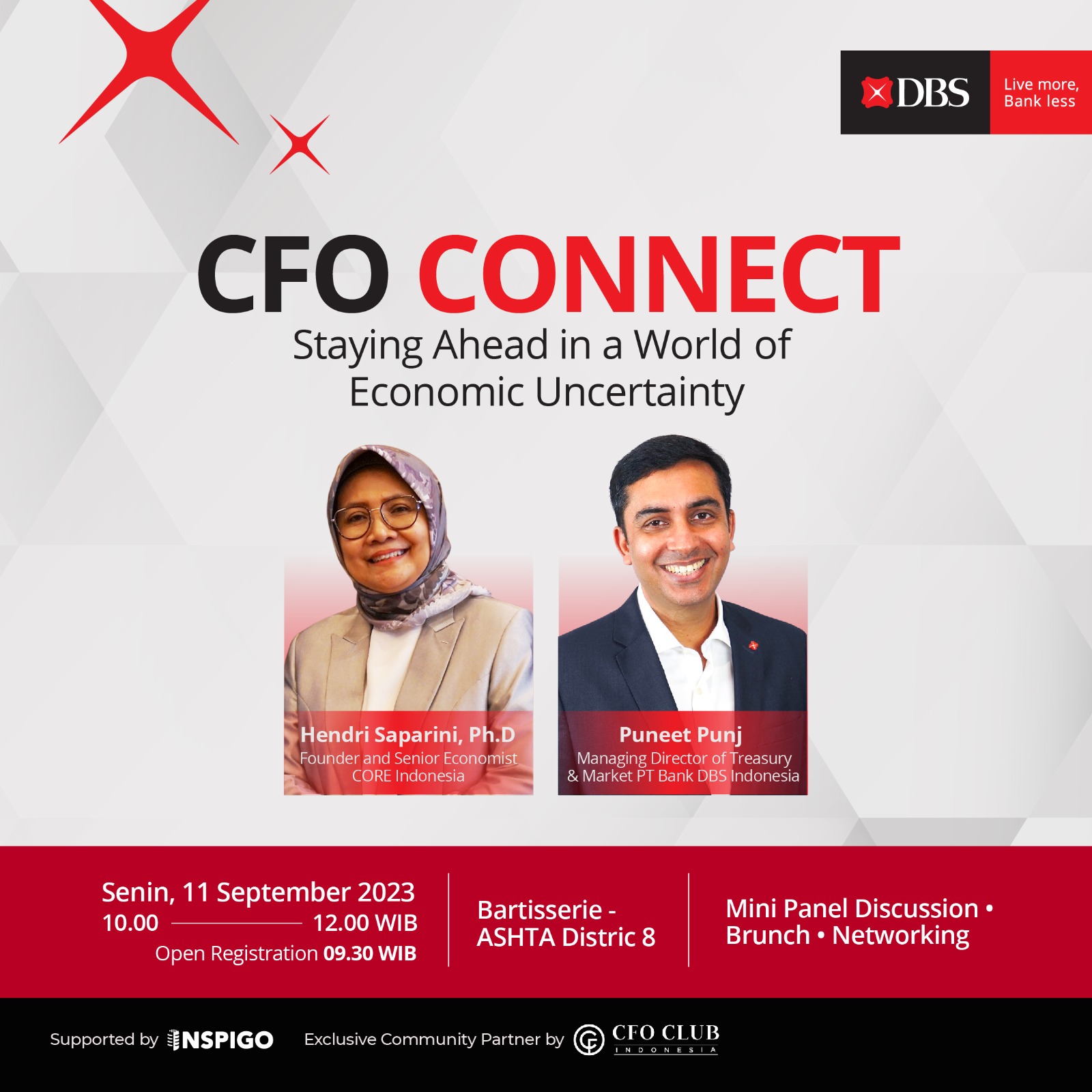 Upcoming Events
CFO Club Indonesia Event September 2023
20200310 | 18:00:00-20:30:00 WIB
at Grand Hyatt Hotel - Jakarta
CFO Club Indonesia Event September 2023
Monday, 11 September 2023 at 10.00 – 12.00 WIB
Bartisserie, ASHTA District 8, Jakarta

We would like to invite you to attend CFO Club Indonesia Event:
CFO CONNECT: Staying Ahead in a World of Economic Uncertainty
We're excited to have you join us for an insightful mini-panel discussion, brunch, and networking session exclusively designed for Chief Financial Officers (CFOs), which will take place on:
📆 Monday, 11 September 2023
🕒 10.00 – 12.00 WIB
🏢 Bartisserie, ASHTA District 8, Jakarta
Engage in discussions and exchange insights with distinguished panelists:
⚫Puneet Punj, Managing Director of Treasury & Market PT Bank DBS Indonesia
⚫Hendri Saparini, Ph.D, Founder and Senior Economist CORE Indonesia
📢 Our expert panelists will shed light on key topics:
🔹 Economic outlook and industries impacts on food & agriculture, start-ups, FMCG, automotive & logistics sectors
🔹 Discover effective strategies to navigate financial risks in the face of economic uncertainty
🔹 Discuss practical strategies to integrate financial solutions into your business model for long-term sustainability and resilience
If you're interested in joining please click on the link below to register.
If you have any questions, please feel free to contact Elin Jayanti – 08122574811.
We look forward to welcoming you.
Please register today to secure your spot.
Click here for attendance list
Register