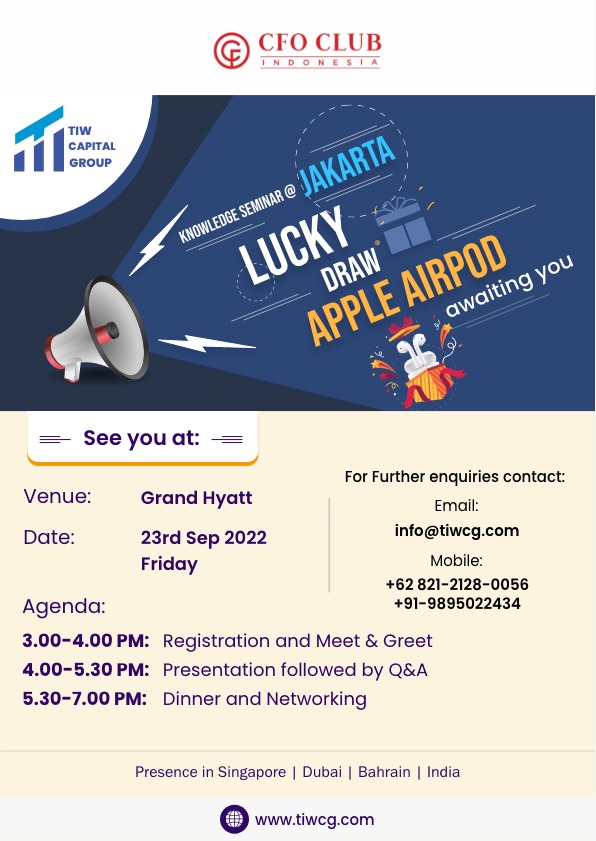 Upcoming Events
CFO Club 23rd September 2022 Seminar – NAVIGATING INVESTMENT MAZE IN THIS DECADE
20200310 | 18:00:00-20:30:00 WIB
at Grand Hyatt Hotel - Jakarta
CFO CLUB 23rd September 2022 SEMINAR
Greetings from CFO Club Indonesia!
CFO Club Indonesia in collaboration with TIW Capital Group cordially invites all CFO Club members for a knowledge seminar on:
NAVIGATING INVESTMENT MAZE IN THIS DECADE : RISING COMPLEXITIES AND THE NEW NORMAL
Friday, 23rd Sep 2022 | 3pm – 7pm WIB
Grand Hyatt Jakarta
If you're interested in joining please click on the link below to register.
If you have any questions, please feel free to contact Elin Jayanti – 08122574811.
We look forward to welcoming you to our session!
Click here for the attendance list
Register