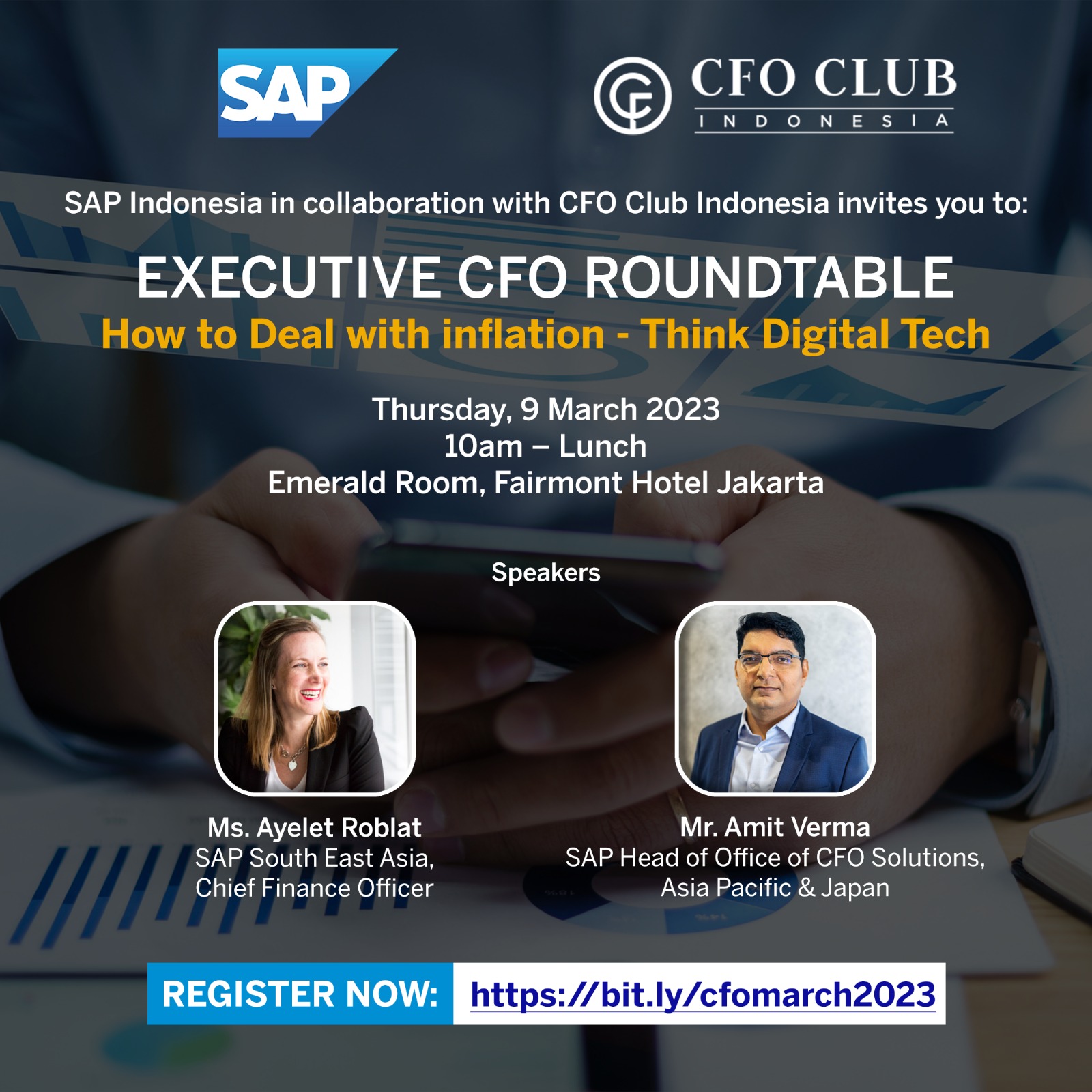 Upcoming Events
CFO Club Indonesia Event March 2023
20200310 | 18:00:00-20:30:00 WIB
at Grand Hyatt Hotel - Jakarta
CFO Club Indonesia Event March 2023
Thursday, 9 March 2023 | from 10 am – Lunch on Emerald Room, Fairmont Hotel Jakarta
Inflation has made agile working capital management business critical.
Are you ready?
As central banks are fighting against the highest inflation rates in 40 years, interest rates are rising quickly – and inadvertently shining a bright light on an area of finance that hasn't been a key area of focus: liquidity forecasting and working capital management. For decades now, financing costs for businesses have reliably been incredibly low, so liquidity hasn't been top of mind. But as the world turns, so do economies and interest rates.
How to deal with inflation – Think digital tech:
Every economic shift is always followed by a flurry of speculation. Companies want to know who survived, who failed, and who thrived. And more importantly: How they did it. When it comes to dealing with inflation, if you had to compress 100 years of corporate wisdom into three words, they could be: planning, visibility, and agility. Fortunately, that's where digital technology shines. Modern, AI-powered business solutions help companies centralize their operations in the cloud – seamlessly connecting assets, people, and suppliers. Powerful analytics put data to work, delivering customizable reports and helping to automate workflows, finance tasks, and much, much more. Digital tech helps businesses spend smarter, cut costs, and see around corners.
We are inviting you to join our special designed and invitation only Executive CFO Roundtable – in collaboration CFO Club and SAP Indonesia to share on how to deal with inflation and gain insights how to thrive together.
If you're interested in joining please click on the link below to register.If you have any questions, please feel free to contact Elin Jayanti – 08122574811.
We look forward to welcoming you on March 9, 2023.
Please register today to secure your spot.
Click here for attendance list
Register